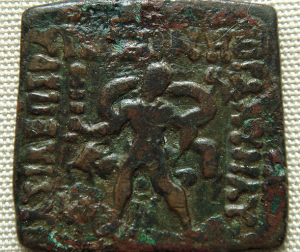 (Balarama depicted on a 1st century BCE Maues coin. via wikipedia)
Between 190 and 180 BCE, towards the end of the Mauryan empire, there lived a king named Agathocles near Ai-Khanoum, in the Kunduz area of Afghanistan. There are no cities, monuments or accounts about him and he would have remained unknown if not for one thing – coins.
Some time in the 70s, archaeologists found two types of coins issued by him. One set was Greek silver coins depicting Zeus and Dionysos. He also issued bronze and silver coins, square or rectangular in shape, which portryated Indian gods like Vishnu, Shiva, Vasudeva, Buddha and Balarama. On these coins were written, in Brahmi or Kharoshthi, that the money belonged to Rajane Agathuklayasa.
"These square coins, dating back to 180- BC, with Krishna on one side and Balram on the other, were unearthed recently in Al Khanoun in Afghanistan and are the earliest proof that Krishna was venerated as a god, and that the worship had spread beyond the Mathura region," says T K V Rajan, archaeologist and founder-director, Indian Science Monitor, who is holding a five-day exhibition, In search of Lord Krishna,' in the city from Saturday. [New finds take archaeologists closer to Krishna-Chennai-Cities-The Times of India]
The images show Vasudeva carrying a chakra and sankha on one side and Balarama carrying a gada (club) and hala (plough) and are some of the earliest coins depicting Krishna and Balarama. But these are not recent discoveries as mentioned in Times of India; a paper on it (Narain, A.K. "Two Hindu Divinities on the Coins of Agathocles from Ai-Khanum", Journal of Numismatic Society of India) was published in 1973.
References:
Alexander the Great and Bactria

By Frank Lee Holt

Iconography of Balarama

By N.P. Joshi