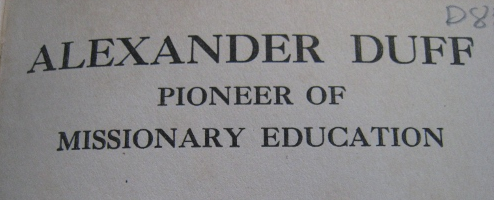 On Jan 15, 1823, Jean-Antoine Dubois, a French-Catholic missionary, who spent time in Pondicherry, Madras Presidency and Mysore left India for Paris, never to return again. During his time in India, he dressed like a native and preached the Gospel, but after 30 years in India, he was convinced that it was next to impossible to convert Indians.
But seven years later, on May 27th, 1830, a Scottish missionary arrived in Calcutta and his goal was to "prepare a mine which should one day explode beneath the very citadel of Hinduism." This 24 year thought that the methods of other missionaries, like directly appealing Hindus to renounce their faith, would do nothing but anger the natives. Instead he claimed to have found a unique way to destroy Hinduism in a peaceful manner.
To understand how Alexander Duff came up with his recipe, we need to understand the India of 1830s.
The language of the Government was Persian and there were a few educational institutions which taught Arabic and Sanskrit. The learned people spoke these Oriental languages and not English.
Duff arrived at a time when there was a controversy in British India over the language to be used for Indian higher education. On the one side there were the British Orientalists who wanted to use Sanskrit, Persian and Arabic and on the other side there were the Anglicists who had scorn for Oriental languages and Indian culture and wanted to enforce English
The missionary activities were not very successful. The missionary technique consisted of standing in the street corner and preaching which fetched an occasional convert or two, but nothing of great significance. Even in South India, where there were more converts, the converts came from the out castes; the Hindu masses remained unaffected.
Duff would take all these three ingredients to come up with a winning formula, which was eventually endorsed by the Lord himself – I mean Lord Macaulay. Looking back, the formula was simple.
Provide English education for the masses
Make Bible studies an integral part of this education
Be non-apologetic about teaching Christianity.
Thus he would teach Western history, philosophy, and natural sciences and as per the plan Hindus seeing irrationality in their religion would discard their faith voluntarily. But this was tricky business. It was possible that a Hindu who had left Hinduism due to Western education could become agnostic. But Duff would fill that spiritual vacuum with the Christian view of life.
Duff was very clear about what Christian education meant: it was not secular education with some Biblical studies thrown in. For him Christianity contained all knowledge and his goal was to teach with Christianity revelation at the center.

When Duff first proposed this method, veteran missionaries did not find it appealing. Still he went ahead without any government support. Bengalis did not mind an English school, but had reservations about an English school where Bible was an important subject. This reservation made it difficult for Duff to get started; he could not even find a building to start his classes.
One Indian who helped get Duff was Raja Ram Mohan Roy. Mohan Roy who worked with Lord William Bentinck in suppressing sati and who believed that the pure faith of the vedas were corrupted by various cults had founded Brahma Samaj to teach the worship of one God. Ram Mohan Roy provided Duff with a hall as well as his first students. When parents learned that Bible was being taught there, they were reluctant to send their kids, but Ram Mohan Roy helped there as well. On the first day of school, Ram Mohan Roy, who had three more years to live, calmed the students who refused to read the Bible and appeared daily for the Bible class.
Though Duff was a proponent of higher studies in English, he did not hate Bengali. He did not want students to be alien to their culture and hence Bengali studies were an important part of the curriculum. After one year, Duff conducted a public exam  – in front of parents and the media – and students demonstrated their knowledge in language, science and Bible. This was a huge success and it convinced both Indians and the British. Soon the number of students started increasing.
Not everyone in Calcutta was his fan. One of the newspapers published an article suggesting that all students who attended Duff's school be outcasted. This warning had an effect and the attendance dropped briefly, but later picked up.
Soon Duff encountered students —- not from his school, but from the Hindu college — who were enamored by Western thought and had a low opinion of Hinduism. These were the kind of people Duff wanted to seed Christian religion into and he invited them to his home to attend lectures on "God and His Revealing." Hindus reacted strongly against Duff and asked the Government to stop this. Lord William Bentinck asked Duff to slow down and this crisis too passed.
But soon Duff got his converts — Krishna Mohan Banerjee, Mohesh Chunder Ghosh, Gopinath Nandi and Anando Chand Mazumdar  — and as he had expected they came from the higher castes. Some of them were Brahmins who ate beef to show their defiance against Hinduism and whose moral vacuum was happily filled by Duff.
By this time the Orientalist-Anglicist fight had reached critical mass. The East India Company needed a supply of qualified clerks and there were educational institutions like the Mohammedan college in Calcutta and Sanskrit college in Benares which provided the employees. The company even started a new Sanskrit college in Calcutta and Oriental colleges in Delhi and Agra. A large sum of money was spent in publishing books in the Oriental languages and translating European works into these languages. For the amount of money spent on education, there was not enough demand for these books.
In the language fight, the Government, missionaries and Orientalists wanted to use the Oriental languages, while Duff sided along with the Anglicists. If Indians were to learn Western culture and Christian theology, he said, it was not possible to do it in Sanskrit, Arabic or Persian or the vernacular Bengali. This decision on which language to choose for Duff was very critical and in a later speech given in Scotland, he said that it concerned the ultimate evangelization of India.
His arguments against Sanskrit were that (a) it was not perfect for Western education (b) ordinary people did not speak Sanskrit and (c) Western literature was not translated to Sanskrit. Since Sanskrit was tied to Hinduism, even if one were to teach Western literature in Sanskrit, the association formed in the mind of people would of an idolatrous and superstitious religion whereas English, would bring fresh ideas without the burden of association.
(Read Part 2)